Income Tax e filing new portal 2.0 login
Income Tax e filing new portal 2.0 login
Income tax e filing new portal login: Central Government of has launched a new e filing portal on 7th June 2021. The new income tax portal is www.incometax.gov.in
We are try familiar to you with new portal 2.0.  Income tax e filing new portal 2.0 is totally different from old  e filing portal .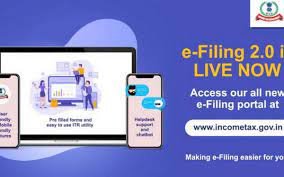 Income tax e filing portal 2.0
E filing portal 2.0  launched with many new features which is help full for taxpayer.
In the Income Tax 2.0 portal facilities with many payment option like
Net Banking
UPI
Credit Card
RTGS
NEFT
Tax amount now taxpayer can pay directly from account.
The Central Government also try to lunch a mobile app.
How to use new e filing portal
Step 1   First you should visit on  income tax portal www.incometax.gov.in
Step 2  Select option
-View guided tour of the new portal
– update your profile
– Submit Grievances
– File your ITR
When you select file your ITR than login option will show
Enter your user ID PAN NUMBER /AADHAR NUMBER/OTHER USER ID
Click on continue
Click on please confirm your secure access message and
Enter password
Click on Continue
select  proper option from  Manu
https://www.incometax.gov.in/iec/foportal/
Kolkata FF Fatafat Result Today live